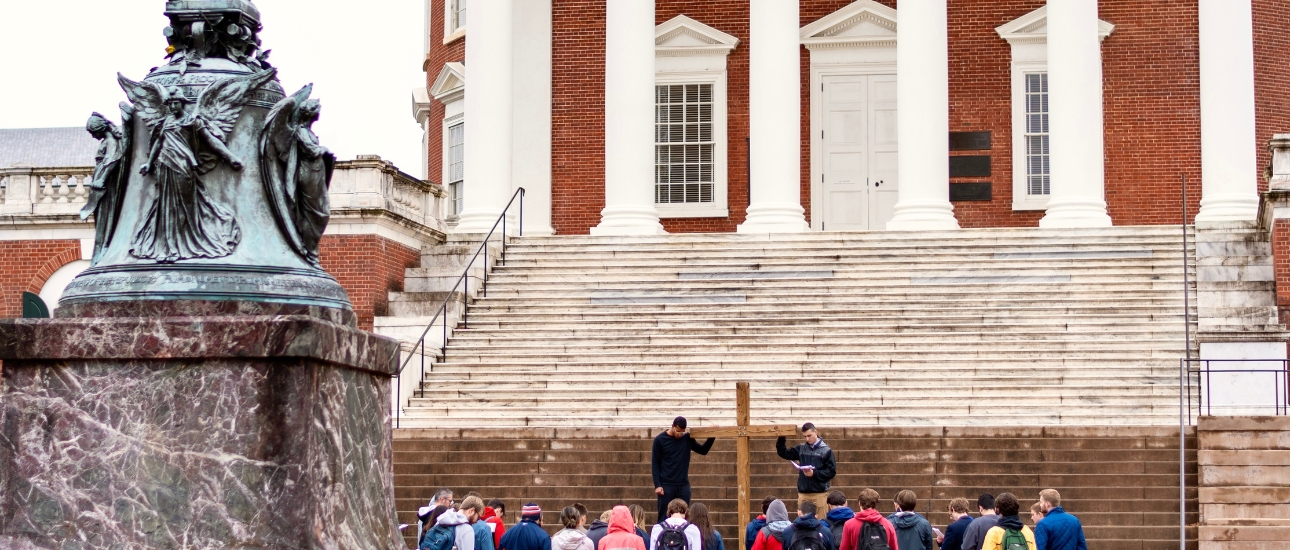 Welcome to Catholic Hoos!
Catholic Hoos is a home for all students at the University of Virginia. We strive to greet everyone with the person of Jesus Christ, the love of the Father, and the truth of the Catholic Church. We challenge each other to lead by example with charity and joy, that all may know, love, and live in a relationship with Jesus Christ. We offer a variety of opportunities to grow in knowledge, love, and service of God. There are weekly dinners, retreats, service opportunities, faith education, small group Bible studies, and much more!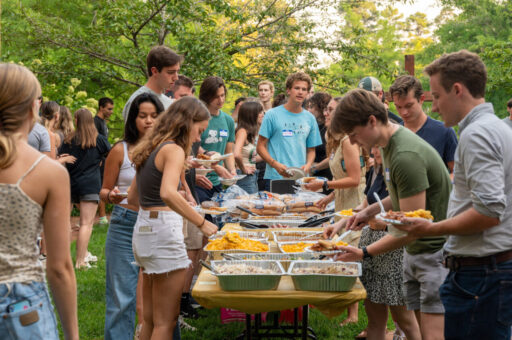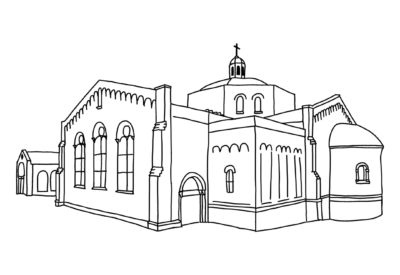 St. Thomas Aquinas University Parish
(401 Alderman Road)
Sunday Mass Schedule
SATURDAY VIGIL: 5:15

PM

SUNDAY: 7:30

AM, 

9A

M,

11:30

AM, 

5:15

PM, & 

9

PM

 (w

hen UVA is in session)
Daily Mass Schedule
MON-

FRI: 8

AM & 

5:15

PM

THURSDAY: 9

PM

 

Fireside Mass (when UVA is in session)

SATURDAY: 8:30

AM

 (

with Morning Prayer)
Wednesday: 7PM-8PM
Saturday: 9:15AM-10:15AM
Sunday: 8PM-9PM (when UVA is in session)
Adoration Schedule During the Academic Year
MON, TUES, THURS, FRI: 6PM-9PM
WEDNESDAY: 1PM-5PM & 6PM-9PM, with 8PM preaching, night prayer, and 9PM Benediction
SATURDAY: 9:15AM-10:15AM (during morning Confessions)
ADORATION SCHEDULE DURING UVA BREAKS
WEDNESDAY: 1PM-5PM & 6PM-8PM (7PM Confessions & Preaching; 8PM Night Prayer & Benediction).
SATURDAY: 9:15AM-10:15 AM (during morning Confessions)
*Although this organization has members who are University of Virginia students and may have University employees associated or engaged in its activities and affairs, the organization is not a part of or an agency of the University. It is a separate and independent organization, which is responsible for and manages its own activities and affairs. The University does not direct, supervise or control the organization and is not responsible for the organization's contracts, acts or omissions.*
Bishop Knestout encourages anyone aware of sexual abuse of minors on the part of clergy or staff of our diocese to notify civil authorities, call the Attorney General's Clergy Abuse Hotline at 1-833-454-9064, and reach out to the Diocesan Victim Assistance Program at 1-877-887-9603.