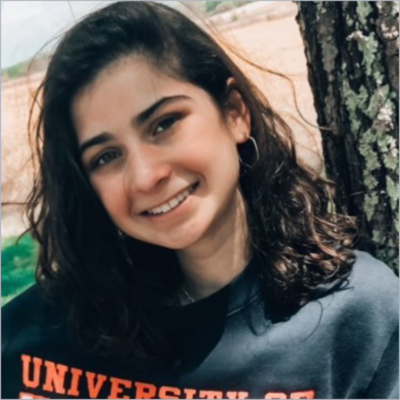 CHAIR: CATA CUETO
4th-Year
Major: Elementary Education
Email: [email protected]
My name is Cata and I am from Warrenton, Virginia. I am a fourth-year majoring in Elementary Education and minoring in Architecture. I am super excited to serve as your chair this year. Catholic Hoos has brought me so much joy and helped to form me in so many ways. I enjoy spending time in my living room with my housemates, playing sudoku, cooking, spending time outdoors, and working with the youth. This upcoming year, I will be participating in the Catechism-in-a-year podcast, and I would love for others to join me! Please feel free to reach out to talk about anything or if you want a study buddy 🙂
Favorite Quote: "God is more willing to pardon than we have been to sin." – St. Catherine of Sienna.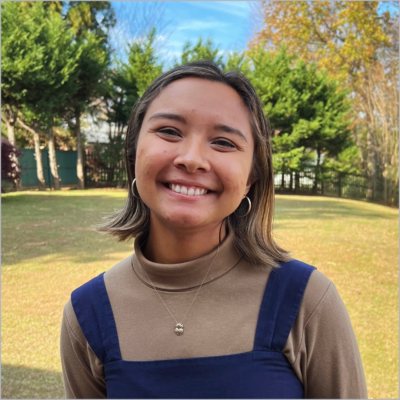 JUSTICE & MERCY: CAROLINE WACK
4th-Year
Major: Public Policy
Email: [email protected]
Hey all! My name is Caroline and I'm from Annandale, Virginia. I'm a fourth-year majoring in Public Policy and minoring in Chinese. I am deeply grateful for Catholic Hoos and all it has taught me about answering the universal call to holiness – and I am thrilled that I get to pay it forward as your Justice and Mercy Chair! I love a good cup of chai milk tea, writing & receiving letters, picking flowers around Grounds, the Bath & Body Work's Mahogany Teakwood candle, captions, and laughing uncontrollably at nothing at all. My sixth love language (ask me about this) is when people text me photos of little things that brought them joy! I have recently found much peace in sitting in front of the Blessed Sacrament and reflecting on my own poverty and littleness. My favorite saints include St. Teresa of Calcutta, St. John Bosco, St. Faustina, and St. Veronica. If you haven't read The Space Trilogy by C.S. Lewis, I will gladly lend you my copies. Praying for you all and excited to serve with you this year!
Favorite Quote: "Who except God can give you peace? Has the world ever been able to satisfy the heart?" – St. Gerard Majella
FAITH FORMATION: EMMA FUENTES
4th-Year
Major: English
Email: [email protected]
Hello! I'm Emma, and I am from Woodbridge, Virginia. Catholic Hoos has afforded me invaluable formation and more fruit than I know how to use, so I hope to offer similar care to the ministry. In the meantime, it's likely you catch me at my favorite activities: reading, eating ice cream, learning chants, and playing tag. I love to discuss literature and writing, and welcome any opportunity to do so, as well as whatever else strikes your fancy—contemplation, music, the Latin Mass, so on. I've devotions to the Jesus Prayer and practicing the presence of God, and love to sit with empty mind and burning heart before the Blessed Sacrament. Feel free to talk about prayer with me; it would be my great pleasure to do so. Though, like everyone else, I know hardly how to pray, I'll always make myself available for such enlivening conversation.
Favorite Quote: "We should continually strive to ensure that all our actions are like little conversations with God, quite unstudied, just using the words that come from the purity and simplicity of heart." – Br. Lawrence of the Resurrection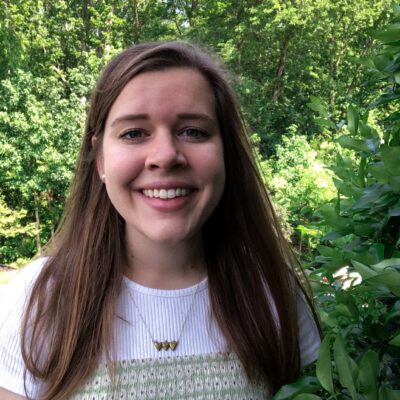 COMMUNICATIONS: CASEY NESTOR
4th-Year
Major: Elementary Education
Email: [email protected]
Hello hello! My name is Casey, and I am a fourth-year from Annapolis, Maryland studying Elementary Education. Catholic Hoos is one of God's greatest gifts to me, and I am so grateful to serve as your Communications Chair! I love peach season, painting, and pouring out my heart to Jesus in the Blessed Sacrament while receiving His heart in return. I have devotions to Our Lady of the Annunciation, Our Lady of Częstochowa, JPII, St. Gianna, Bl. Pier Giorgio Frassati, and St. Joseph, and I am always looking to make new saint friends! Please know of my prayers for you! Come talk to me about noticing the beauty in ordinary life, teaching religious education at STA, and why God sends me butterflies!
Favorite Quote: "If I find in myself desires which nothing in this world can satisfy, the only logical explanation is that I was made for another world." – C.S. Lewis
LITURGY: PHIL BONGIORNO
4th-Year
Major: Mechanical Engineering
Email: [email protected]
Hello! My name is Phil Bongiorno and I am a fourth-year Mechanical Engineering student from Woodbridge, Virginia. I am incredibly blessed and grateful to serve as your 2023 Liturgy Chair in Catholic Hoos! This ministry has been a massive blessing throughout my college career, and I am delighted to give back to all of you in such a way. The Mass is the highest form of prayer we can participate in, and my love for it continues to grow day by day. As a leader in the ministry, I want to, through the guidance of the Holy Spirit, bring you closer to the truth of the liturgy, the beauty of liturgical living, and the goodness of the sacraments so that love for Christ and His Church may grow within each and every person. St. John Vianney once said, "If we truly understood the Mass, we would die of joy." May Christ guide us to that truth through His Holy Sacrifice present on the altar and through His example of humility as he comes to us in the accidents of bread and wine. I enjoy European soccer, all things basketball, chess, altar serving, and Pico Wrap. I am always up for a basketball game at the AFC, or any gym for that matter. I have a special devotion to the three hearts of the Holy Family, Our Lady of the Miraculous Medal, Saint Joseph, and Saint JPII. Outside of participation in the Mass, my favorite way to pray is in the presence of Our Lord in the Blessed Sacrament through Eucharistic adoration. Feel free to reach out if you want to become involved in the liturgy or if you have any questions! I look forward to meeting you all!
Favorite Quote: "Man should tremble, the world should quake, all Heaven should be deeply moved when the Son of God appears on the altar in the hands of the priest." – St. Francis of Assisi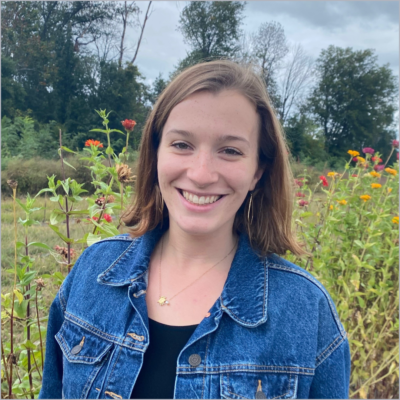 SOCIAL: KENDALL PETERSON
4th-Year
Major: Speech Communication Disorders
Email: [email protected]
Hey y'all! My name is Kendall Peterson and I'm originally from Virginia Beach. I'm a fourth year majoring in Speech Communication Disorders. I can't wait to give back to the ministry and to serve you all as I have received so many good friends and beautiful memories from my experience in Catholic Hoos. I believe that there are so many ways to encounter God and I think one of them is simply getting to spend time together and be present with the person in front of you. I like to fill my time with laughter, country music, spontaneous cooking, guitar playing, tea, dancing, and walks. Some fun facts about me are that I have a slightly problematic obsession with mugs and I believed in Santa Claus until the 7th grade. In prayer, I love reading the Bible (I am quite fond of the Book of Job), praying the Seven Sorrows Rosary, attending daily Mass, and reflecting on gratitude. If you want to laugh, eat, or walk with someone, let me know and it would make my day to join you! I can't wait to get to know you all as we get ~social~ this coming year!
Favorite Quote: "The higher we go, the better we shall hear the voice of Christ." – Bl. Pier Giorgio Frassati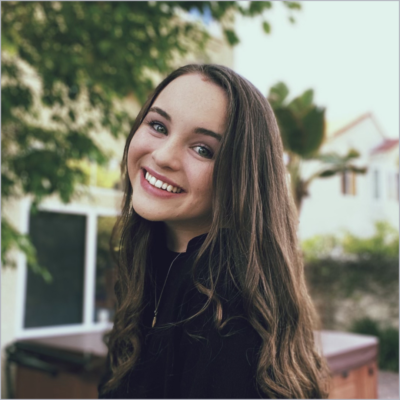 MUSIC: KAT HAMMOCK
4th-Year
Major: Music & American Studies
Email: [email protected]
My name is Kat, I'm from San Diego, California, and am the youngest of 5 kids. Some fun facts about me: I celebrate Christmas in some capacity on the 25th of every month, it's on my bucket list to visit every US state (so far, I've been to 29), I took a gap year after high school and moved to Nashville for a few months, and whenever it snows, I wear my Blessed Pier Giorgio Frassati socks as a nod to his love for snow and outdoor adventures. My favorite saint is Saint Anthony, but I also have a fierce love for St. Anne, Blessed Frassati, and my Confirmation saint: Saint Cecilia. In my free time, you can find me playing piano, writing songs (okay, doing anything music related!), obsessing over books, or finding new novenas to pray. I am so excited to continue serving the ministry as Music Chair!
Favorite Quote: "Christianity, if false, is of no importance, and if true, of infinite importance, the only thing it cannot be is moderately important." – C.S. Lewis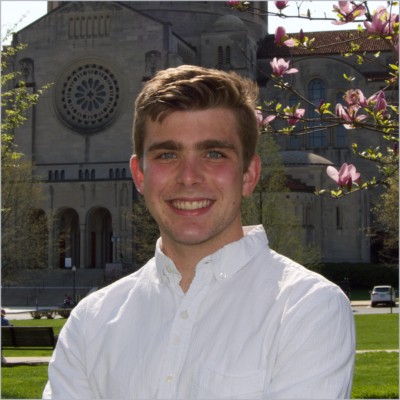 MEN'S MINISTRY: ZACH TENTOR
4th-Year
Major: Biochemistry
Email: [email protected]
My name is Zach and I am a fourth-year from Richmond, Virginia. In my spare time, I enjoy running, reading, and memorizing poems. Some of my favorite authors include C.S. Lewis, G.K. Chesterton, and Aquinas and I especially love The Screwtape Letters (whenever I read it I finish it in one day). Come talk to me about anything from the relationship of beauty to truth, to science and faith, to the interior life, and to Premier League soccer. I'll take all challengers in ping-pong, let me see what you got!
Favorite Quote: "The world is charged with the grandeur of God." – Gerard Manley Hopkins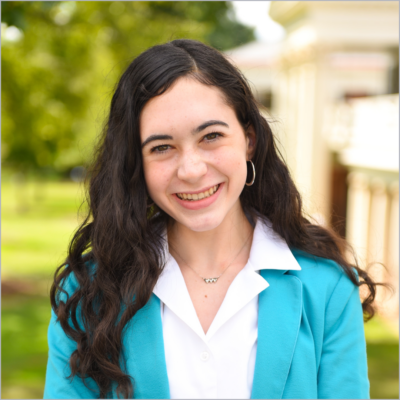 WOMEN'S MINISTRY: CAROLINE BELL
4th-Year
Major: Computer Science & Music
Email: [email protected]

Hi friends! My name is Caroline, a fourth-year Computer Science and Music major from Richmond, VA. A violinist of 15 years, I love learning new things about music as well as how to combine it with my passion for technology. Catholic Hoos has been at the heart of my UVA experience, so I feel very blessed to be able to serve this beautiful community and the women of this ministry. Dancing around my house, sending audio messages, going on rosary walks, running on the treadmill, waking up before 5AM, and chatting with friends over Juice Laundry smoothie bowls bring me so much joy. My saint squad consists of Our Lady of Sorrows, St. Therese of Lisieux, St. Louis de Montfort, St. John Paul II, and St. Joseph (just to name a few!).  If you would like to chat about what YA Dystopian novel I am re-reading, my obsession with TinySaints keychains, or how I have been meditating on the theme of daughterhood in prayer, you can always come join me in Mass or Adoration. I would love to meet you!
Favorite Quote: "There exists but one Being capable of comprehending love; it is Jesus; He alone can give us back infinitely more than we shall ever give to him." – St. Therese of Lisieux